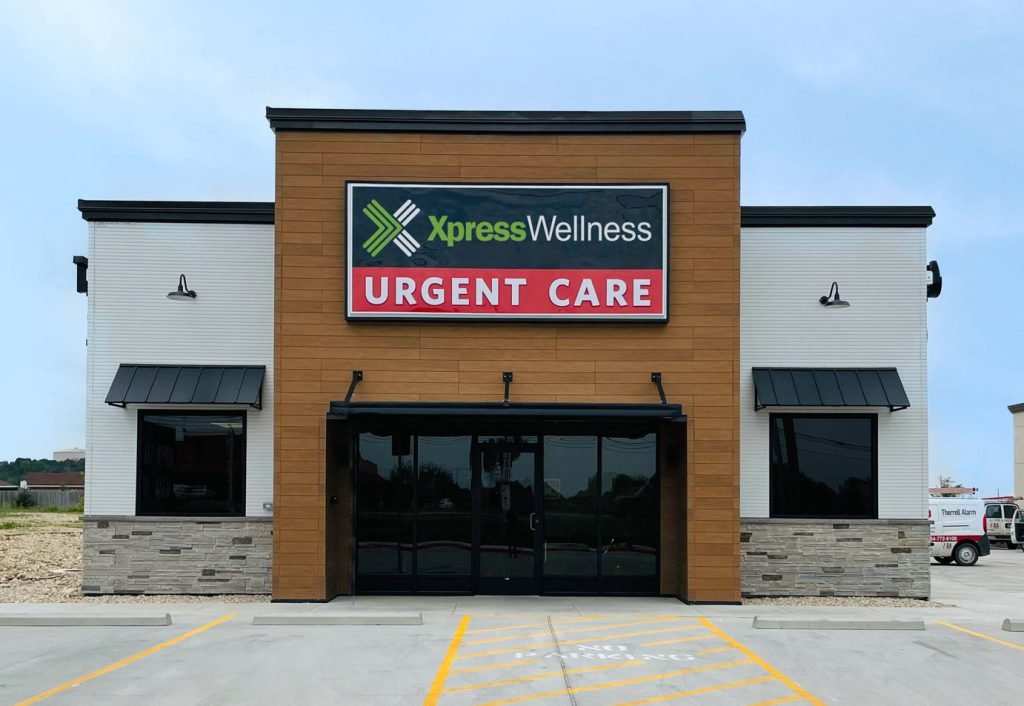 For more information contact:
Kerstin Olson, Director of Business & Strategic Operations
Phone: (405) 445-1210, Ext. 1110
Email: k.olson@xpwell.com
EMPORIA, KS. (July 24, 2023) – Xpress Wellness Urgent Care, is excited to celebrate the opening of their 10th urgent care clinic in Kansas. The new 3,200 square foot facility is located at 2031 W 6th Ave in Emporia and will officially start seeing patients on August 1, 2023.
The clinic will be open Monday through Saturday from 8 a.m. – 8 p.m. and Sunday from 10 a.m. – 6 p.m. It features onsite lab and x-ray services in addition to EKG. Xpress Wellness offers online check-in to reduce patient wait times and limit exposure to other illnesses.
"We are excited to bring a high quality and convenient health care option to Emporia, Kansas!" said Dr. Eddy Dark, Chief Development Officer. "Since announcing our plans to come to Emporia and throughout the construction process, we have received such a warm welcome from everyone in the community and we can't wait to finally start seeing patients."
Steven Hull, COO for Xpress Wellness Urgent Care stated "Choices for healthcare are at times limited and not convenient. We hope to be an option for residents in and around Emporia when they can't get in to see their primary care provider or need to see someone after regular business hours. No appointments are necessary, so you can walk into the clinic to be seen or you can save your place in line on our website."
Justin Roach, APRN-CNP, and Allison Railsback, APRN-CNP, have joined the Xpress Wellness Urgent Care family and will provide care at the clinic. Roach and Railsback have long-term ties to Emporia and the surrounding communities.
According to Dr. Tony Hill, Chief Medical Officer, "Our goal is to provide convenient, quality care close to home. We provide care for patients fighting cold and flu, allergies, and infections. We treat minor injuries like sprains and strains, minor fractures, bite and puncture wounds, lacerations, and sports physicals."
In addition to traditional urgent care services, all Xpress Wellness Urgent Care clinics offer a full line of Occupational Medicine Services. This includes treatment of work-related injuries, DOT and non-DOT physicals, drug screens and a host of other employment health screenings.
Xpress also offers virtual care options to connect you with our medical professionals, no matter where you are–at home, in the office, or somewhere in between.
A launch party to celebrate the clinic's upcoming opening is scheduled for Saturday, July 29, from 11 a.m. – 1 p.m. for the public to meet the team, tour the clinic, and enjoy some family fun including inflatable bounce house and obstacle course, free pizza, and door prizes. Xpress Wellness is a certified VA Urgent Care Provider and accepts TRICARE, TriWest and VA benefits. Xpress also accepts most major commercial insurances including: Blue Cross Blue Shield, Aetna, Cigna, United Healthcare, KanCare and Medicare.
Xpress Wellness currently operates 47 clinics across Kansas, Oklahoma and Texas. For more information about our newest Xpress Wellness Urgent Care in Emporia, please visit their website at XpressWellnessUrgentCare.com or call the Emporia clinic at 620-481-2520.