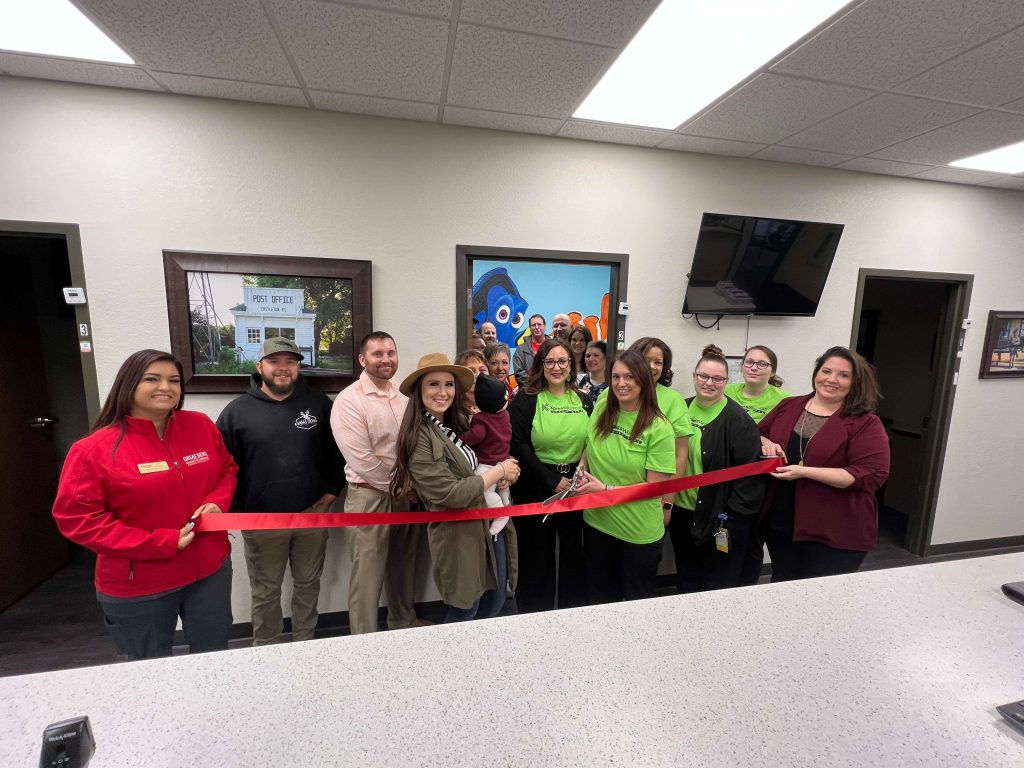 Having a sick child is one of the worst things for a parent to go through, especially if your child is too young to describe where they hurt or what is wrong.
"We converted one of our exam rooms into a pediatric room," said Kristen Yarmer, Xpress Wellness provider. "We wanted to create an atmosphere where kids not only felt comfortable, but could also be entertained while they wait. "
"The new pediatric room features the three main characters from Disney's movie Finding Nemo," said Yarmer. "You can see them on the walls as you walk past the room down the hall. Once you are in the room, there is a surprise behind the door."
"Moms have enough to worry about. Our goal is to help make their visit to the clinic a bit easier and provide some entertainment for kids while they receive care," said Steven Hull, Chief Operating Officer at Xpress Wellness Urgent Care.
"It isn't uncommon for parents to come through our doors worn out physically and emotionally from caring for their kids," said Yarmer. "Having something to look at and do while they wait will help take their minds off the reason they are here."
"This new room is an exciting step in our continued journey to provide quality care for children and families in our community," said Xpress Wellness CEO Grant Asay. "We hope the pediatric room enhances the patient experience while our teams address the needs of families who want high-quality care in a child-friendly environment."
From injuries to illness and other medical concerns, Xpress Wellness Urgent Care aims to treat immediate health care needs as quickly as possible to every member of the community.
"Xpress Wellness Urgent Care offers compassionate and affordable care without the ER price tag," said Steven Hull, Chief Operating Officer at Xpress Wellness Urgent Care. "Maintaining the health and well-being of our community is our top priority."
Xpress Wellness offers adults and children comprehensive medical care services for conditions such as the common cold, flu, sprains/strains, cuts/scrapes, allergies, infections, sports physicals, and much more. Onsite services, including computerized X-ray, lab testing and EKG, allow for quick point of care testing and rapid diagnosis.
"We also work with employers offering a full range of occupational medicine services including drug screens, DOT and non-DOT physicals, treatment of work-related injuries, pre-employment physicals, spirometry, drug and alcohol testing, and treatment for work-related injuries,"said Tiffany Salas Xpress Wellness Business Development Coordinator.
"Choices for healthcare are sometimes limited in rural areas," said Melissa Holgerson, Xpress Wellness Director of Operations for Kansas clinics. "We are thankful we have the opportunity to provide residents an option in and around Great Bend when they need non-emergency health care." Holgerson said the company has been impressed with Great Bend and the community has been very welcoming. 
"Accidents and illness don't happen at a time that is convenient and that is why we offer extended hours and are open 7 days a week. You can walk into the clinic to be seen, you can save your place in line through our website or you can be seen virtually," said Holgerson. "You can determine the time that best fits your schedule. If you need to stay at work, at home or have time to pick your child up at school, you can save your spot in line and complete registration paperwork all from your computer, phone or any other mobile device."
Xpress Wellness Urgent Care is open for in-person visits Monday thru Saturday, 8:00 a.m. to 8:00 p.m. and Sunday from 1-7 p.m. Virtual visits are available daily.
Xpress Wellness Urgent Care has agreements with most major insurance providers, including KanCare, TriCare, BCBS, Medicare, and many others. Hull said "the co-pay amount will depend on your insurance provider and plan and we also have discounted self-pay options for those who do not have insurance."
More information about Xpress Wellness Urgent Care can be found on their website at XpressWellnessUrgentCare.com.